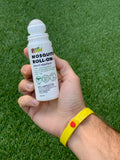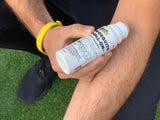 All Natural Mosquito Roll-On™ 3oz/90mL
Introducing the Mosquito Roll-On – the perfect solution to help keep pesky mosquitoes away from your skin while enjoying the great outdoors. Made with 100% natural ingredients, this product is a must-have for anyone looking for a safe and effective way to help repel mosquitoes.

The Mosquito Roll-On offers precise application to ensure that you're protected exactly where you need it. With up to 4-hours of protection, you can enjoy your favorite outdoor activities without worrying about mosquito bites.

What sets the Mosquito Roll-On apart is its natural approach to insect repellent. Unlike other chemical-based solutions, our product uses only natural ingredients that are safe for you and the environment. This means you can enjoy the outdoors without worrying about harsh chemicals harming your skin or the planet.

We take pride in the fact that the Mosquito Roll-On is made in the USA, ensuring that we maintain the highest quality standards in the manufacturing process.

Don't let mosquitoes ruin your outdoor fun. Choose the Mosquito Roll-On for a natural and effective way to help repel mosquitoes and protect your skin. Try it today and experience the difference for yourself!
See our FAQ page for further information.

Bug Bam Products LLC warrants that this product qualifies for exemption from EPA registration under the Federal Insecticide, Fungicide and Rodenticide Act.